---
OUTDOOR SWIMMERS MAGAZINE – "SIMPLY THE BEST"
Read the full article on Outdoor Swimmers Magazine about BEST Fest.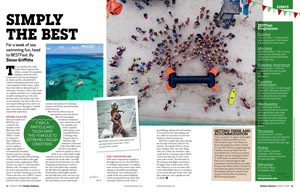 Or visit: outdoorswimmer.com
---
OUTDOOR SWIMMERS MAGAZINE – "ESCAPE THE POOL"
THE OUTDOOR SWIMMERS GUIDE TO OUTDOOR SWIMMING FOR BEGINNERS
The 32 page guide is designed to help you make that transition from pool to pond. Contents include:


-> Download the guide
How is outdoor swimming different?
How good a swimmer do you need to be?
Your first outdoor swim.
Becoming more confident and competent.
Keeping safe and healthy in open water.
What kit do you need?
Choosing a wetsuit.
Next steps.
Also available as a free download (for PC and tablets) through the Outdoor Swimmer App.
---
OUTDOOR SWIMMERS MAGAZINE – "BEGINNERS GUIDE"
Outdoor Swimmer, the World's premier open water swimming publication and supporter of BEST Fest (the World's premier week-long open water swimming festival!) have kindly allowed us to re-publish their recent 4 part 'Beginners Guide' to open water swimming.
With grateful thanks to BEST Fest collaborators Outdoor Swimmer. Please visit outdoorswimmer.com for more Open Water Swimming articles and content.
---
Read what the papers and specialised magazines said about BEST Fest.
Videos
These are promo videos for 'Team Italia' organised by Luciano Vietri.
Luciano came to BEST Fest as a solo swimmer, but loved it so much he started organising training and racing trips for other Italian swimmers!
We're looking forward to seeing Team Italia again in 2018.