ALL BEST Fest pool sessions will have coaches available to offer technique advice and structured training. Whether you want to improve your body position, breathing, kick or fitness, we've lined up some fantastic help!
Check out our schedule page for all session timings and don't forget to sign up on arrival at BEST Fest 2023. All sessions also include un-coached 'free swim' lanes if you just want to do your own thing. Coached or un-coached, they're all FREE TO BEST Fest entrants!
Meet our previous coaches below.
BEST FEST PRO CLINICS
Alex Studzinski
Alex is a prolific, professional open water swimmer from Germany. With a CV that boasts podium places in races all over the World; from Waikiki to Lake Windermere; 1 mile to dozens of km's; from the FINA Grand Prix series to the German National Champion title – he's been there, done it and got the swim hat! He's also been an Elite BEST Fester from the very beginning; always in the mix for the podium and an expert in measuring his effort to get the right result. Alex is the only person we know to have been 'stung' by a Sea Cucumber, but you'll only hear about that by joining one of his sessions!
---
Beatrix Studzinski
Beatrix has an impressive pool swimming background at German National level, including multiple individual & relay team National titles and records. At her peak, she raced at the FINA World Cup and has also been successful at University and Masters level. A switch of focus to open water saw medals won at the Great Swim Series and Henley Swim (UK), Waikiki Rough Water Swim (Hawaii), BEST Fest (Mallorca!) and others. As one half of our dynamic German duo by being married to Alex, Beatrix (previously Beatrix Eisel) has a wonderful coaching manner that swimmers respond to and really benefit from.
EXTRA ACTIVITIES
In addition, we want you to enjoy your week of BEST Fest as much as possible. Therefore, we have prepared some activities
Yoga Classes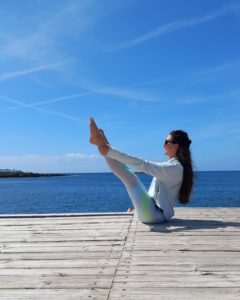 On Monday, May 29 and Wednesday, May 31, from 5:00 p.m. to 6:00 p.m., Holistic Movement will offer yoga sessions for you to connect and work your body both inside and out.
The price per person and per class is 10 euros. If you are interested in attending, you can complete the following form (just available until Saturday noon). Afterwards, you can register in person at the BEST Centre Sports reception where you can make the payment either by card or in cash. Remember the payment is need to be done before each class.
We recommend you arrive 15 minutes before each class.
Limited places.
1:1's & Video Analysis with Sam Holland – Founder of Wavelenght
UNLOCK YOUR TRUE POTENTIAL
Our 1:1's allow for swimmers to work on their own individual goals and targets. Sessions are completely tailored to the individual, where we can work on all aspects of swimming. Price = 65euros per hour
Receive annotated analysis on all 4x strokes & turns with our underwater camera and stroke development technology. We are able to identify the key strengths and weaknesses of a swimmers stroke(s), which in turn allows you to produce more efficient techniques. Price = 85euros per hour
SAM HOLLAND – Wavelength Founder & Head Coach Level 3 Swim Coach Level 2 Open Water Level 2 Swim Teacher Swim Specific Gym Coach
I am a highly skilled swim coach with advanced training and experience in swimming. Bringing forth a proven track record of guiding athletes to excel personally and competitively in an environment conductive to learning and skill building. Utilising highly skilled techniques to help athletes maximise their true potential
BOOK NOW – Please, send an email to pamela@bestcentresports.com